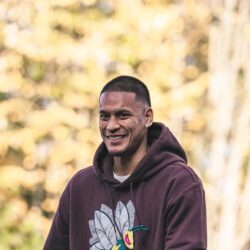 Birthday
February 27, 1993 (30)
Alphonse Areola is a professional footballer from France, primarily known for his prowess as a goalkeeper. Throughout his career, he has donned the jerseys of some of the most prestigious clubs in the world, creating a niche for himself between the goalposts.
Areola's journey in the football world saw him defending the posts for clubs like Paris Saint-Germain (PSG), Real Madrid, and Fulham. While at PSG, he played an instrumental role in leading the team to multiple Ligue 1 titles. His stint with Real Madrid, albeit a brief one, saw him bagging a La Liga title. Fans and critics alike have consistently lauded his agility, precision, and reflexes, which have thwarted countless opponents from scoring.
His professional journey also led him to collaborate with a constellation of football stars. Sharing the field with legends like Neymar, Kylian Mbappé, and Edinson Cavani at PSG, he faced off against Lionel Messi and Cristiano Ronaldo in La Liga. Collaborations extended beyond club ties, representing France alongside players like Antoine Griezmann, Paul Pogba, Olivier Giroud, N'Golo Kanté, Benjamin Pavard, and Lucas Hernandez.
While he won domestic league titles in both France (with PSG) and Spain (with Real Madrid), his crowning glory was undoubtedly being part of the French national team that won the 2018 FIFA World Cup. Furthermore, his exceptional performances at the club level earned him a reputation as one of the best goalkeepers in European competitions.