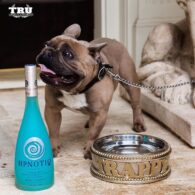 Trappy
Trappy is 2 Chainz' French bulldog that he got in early 2015. He made his music video debut in July 2016, when he starred in "Not Invited". 2 Chainz worked with Hpnotiq to come up with the concept, which showed Trappy's perspective of a house party. 2 Chainz says that Trappy usually joins him at house parties and strip clubs in real life too. Since starring in that music video, 2 Chainz says fans sometimes will ask for a photo with Trappy instead of him.Trappy works out, eats well, flies first class and spends lots of time in the studio, like his human. He's also into breeding, with people putting $10,000 just for a deposit on one of his puppies.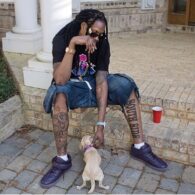 Chihuahua, Pitbull and another French Bulldog
Trappy is 2 Chainz main dog, but he does have another frenchie that is looked after by his kids. He says Trappy is more like him and his other frenchie shares his personality with his kids. He also has a chihuahua that pops up occasionally on his Instagram. He has said he owns a pitbull but hasn't shared any more info.
Tauheed Epps, better known as 2 Chainz and previously known as Tity Boi, is an American rapper born September 12, 1977. Thanks to several successful albums, sponsorships and his own clothing line he has an estimated net worth of $6 million.
He started his music career as part of the hip hop duo Playaz Circle in 1997. After releasing an independent album in 2002 they were introduced to Ludacris. After recording several songs together with Ludacris, they signed with his label. They released their debut album Supply & Demand in 2007 and in 2010 filmed the music video "Big Dawg" with Lil Wayne and Birdman.
In 2011, Tauheed Epps changed his stage name to 2 Chainz and released the mixtape T.R.U. REALigion, which saw the start of his mainstream success. In 2012, he signed to Kanye West's label GOOD MUSIC. He has since collaborated with recording artists such as Drake, Nicki Minaj, Ciara, Pusha T, T-Pain, Pharrell Williams and more.