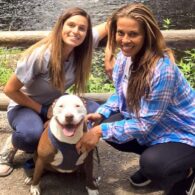 Lolli
Dolores Catania has two rescued Pitbulls. This one is named Lolli who she adopted in 2012. She posted this about Loli on Instagram, "No better way to start the day! 5 years ago I found Lolli tied to a metal cellar door. Lolli was suffering with no food and tied to a 6 ft leash and it was the hottest summer. She was left day and night I asked the owners to surrender her and thank god they did. Lolli has brought us such joy. Just a daily reminder to adopt and not shop!" Boo
Delores Catania had a rescue dog named Boo, that sadly had to be put down due to kidney failure in 2016. Chinchi
Catania has a rescued Chinchilla named Chinchi.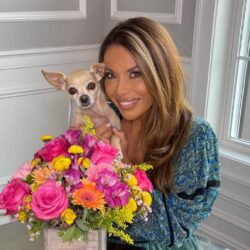 Birthday
December 28, 1970 (52)
Dolores Catania is a reality TV star and businesswoman who is widely known for her appearance on Bravo's popular reality show, "The Real Housewives of New Jersey". She was born and raised in New Jersey and is a proud Jersey girl. Her career has been defined by her passion for real estate, and she has become a respected entrepreneur in the industry.
Before joining the cast of "The Real Housewives of New Jersey" in 2016, Dolores had already established a successful career in real estate. She started as a dental hygienist before transitioning to a career in the real estate industry. She quickly rose through the ranks and became one of the most successful real estate developers in New Jersey. Her experience in the industry has helped her to build an impressive portfolio of properties, which include both residential and commercial properties.
Dolores is also known for her philanthropic efforts and her work in animal advocacy. She is a passionate advocate for animal rights and has worked with a number of organizations to help raise awareness about animal welfare. She is a vocal supporter of animal rescue and adoption and has been involved in several campaigns to promote pet adoption.
On "The Real Housewives of New Jersey", Catania starred alongside Teresa Giudice, Melissa Gorga, Margaret Josephs, Jackie Goldschneider, Jennifer Aydin, Danielle Staub, Caroline Manzo, Jacqueline Laurita, and Kathy Wakile.