 No Pets (Spencer Charnas)
Spencer Charnas does not have any reported pets.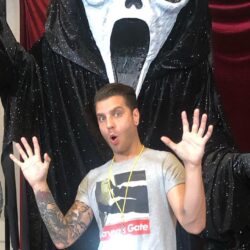 Birthday
November 14, 1985 (37)
Spencer Charnas, widely recognized as the frontman of the metalcore band Ice Nine Kills, has carved out a distinct niche for himself in the music industry. With a flair for the theatrical and a penchant for blending horror themes with riveting metalcore rhythms, Charnas has been instrumental in establishing the unique identity and sound of his band.
Ice Nine Kills, under the leadership of Charnas, has produced numerous albums that narrate haunting tales inspired by classic horror films. Albums such as "The Silver Scream" and "Every Trick in the Book" exemplify this distinctive approach, where each track pays homage to iconic horror movies or novels.
Charnas's reach in the industry extends beyond just his musical contributions. His collaborations with various artists and personalities have been noteworthy. He has worked with Jeremy Schwartz, Justin DeBlieck, and JD DeServio. His ventures into the realm of music videos have seen him collaborating with stars like Ash Costello, Sarah Schultz, and Sam Kubrick.
Charnas and Ice Nine Kills have not gone unnoticed. The band's commitment to pushing the boundaries of the metalcore genre and blending it with horror narratives has earned them significant attention and praise. For instance, their single "A Grave Mistake" peaked at No. 9 on the Billboard Mainstream Rock Songs chart.