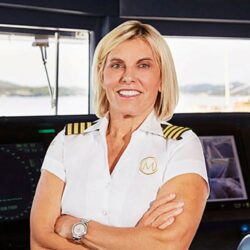 Birthday
February 23, 1965 (58)
Sandy Yawn is an American television personality, yacht captain, and entrepreneur. With a career spanning over three decades, Sandy has established herself as one of the most influential figures in the yachting industry. She first gained recognition for her breakout role on the hit Bravo TV reality series, Below Deck Mediterranean, where she served as the captain of the luxury yacht.
Throughout her career, Sandy has taken on various roles that have helped her hone her skills as a yacht captain and leader. Prior to her time on Below Deck Mediterranean, she worked as a captain for various private yachts and also served as a chief officer in the US Coast Guard. With over 30 years of experience in the industry, Sandy has navigated some of the world's most exotic locations, from the Caribbean to the Mediterranean, always ensuring the safety of her crew and guests.
One of the milestones in Sandy's career was her role on Below Deck Mediterranean. She made her debut on the show's second season and quickly became a fan favorite. Her no-nonsense attitude, professionalism, and leadership skills made her stand out amongst her crew members, and she quickly became known as the "Queen of the Mediterranean."
Over the course of her career, Sandy has collaborated with several celebrities and influential figures. She has worked with singer and actress Jennifer Lopez, who chartered a yacht with Sandy in 2018, as well as actor and comedian Kevin Hart, who spent time onboard one of Sandy's yachts during a vacation in the Bahamas. Sandy has also worked with fellow Below Deck Mediterranean cast members, including chef Ben Robinson and deckhand Bobby Giancola.
Apart from her work in the yachting industry, Sandy is also a passionate animal lover and advocate for animal welfare. She has been involved with various animal non-profit organizations, including Big Dog Ranch Rescue, which is the largest cage-free, no-kill dog rescue in the United States. Sandy has also been an advocate for pet adoption and regularly uses her social media platforms to promote animal rescue efforts.