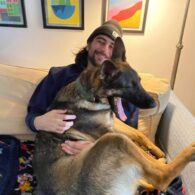 Penny
Noah Kahan has a German Shepherd named Penny he adopted in November 2020. He first shared the adoption on December 1st, 2020, via the Instagram post below.
One furry, adorable little badly behaved baby who uncontrollably shits on the floor. Next to him is a puppy named Penny

@noahkahanmusic, December 1, 2020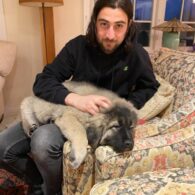 Maggie
Noah Kahan has a dog named Maggie. He hasn't posted anything about Maggie since the photo shown here in April 2020, and Maggie was not included in the photo shoots or promotions for Stick Season with his dog Penny and his mom's dog Oma. But if you visit Kahan's mom's private Instagram profile @laurieberkenkamp, her profile photo looks like Maggie with snow on her face. So Maggie is most likely living with Kahan's mom in Vermont, who usually looks after his dogs when Kahan is unable to or is on tour.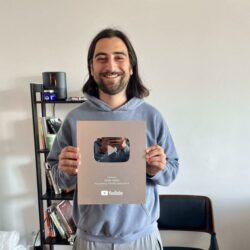 Birthday
January 1, 1997 (26)
Noah Kahan is an American singer-songwriter, who emerged into the mainstream music industry with his 2017 hit single "Hurt Somebody."
Kahan's musical journey began in earnest when he signed with Republic Records and released his debut single, "Young Blood," in 2017. The song attracted attention for its emotionally resonant lyrics and Kahan's soulful voice. However, it was his follow-up single, "Hurt Somebody," a collaboration with Grammy-nominated singer Julia Michaels, that truly put Kahan on the map. This song found international success, topping the Australia's Triple J Hottest 100 countdown in 2018, earning multi-platinum status in Australia and Canada, and solidifying Kahan's place in the pop music scene. In 2019, Kahan released his debut studio album, Busyhead, which further cemented his status as a new force in the music industry. The album, featuring singles like "Mess" and "Cynic," was praised for its honest storytelling and melodic sound.
Throughout his career, Kahan has had the opportunity to collaborate with a variety of talented and renowned artists. His collaboration with Julia Michaels on "Hurt Somebody" was a definitive moment in his career. In addition to Michaels, Kahan has shared the stage with artists like Dean Lewis on a sold-out co-headline tour in 2019. He's also been the supporting act for some big names in the music industry, such as James Bay during the latter's 2018 North American and European tour. Other noteworthy collaborations include performing with the band Milky Chance on their North American tour in 2018, and opening for the popular band Leon Bridges in their 2019 tour.
Kahan's talent has not gone unnoticed, with a number of distinctions marking his growing impact in the music world. His single "Hurt Somebody," in particular, has won several certifications. It was certified Platinum in the United States and double Platinum in Canada and Australia. His album Busyhead also performed well on the charts, debuting at number 2 on the Billboard Heatseekers Albums chart, indicating his growing popularity.