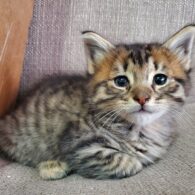 Linus
Maya, Mizkif's partner, surprised Mizkif with the kitten, who had wound up at the wildlife rehabilitation center she works at. The kitten was sent to the facility after allegedly being refused shelter at a cat rescue because they thought it was a bobcat due to its short tail. After streaming to his fans, he named the cat Linus through a game of marbles. However, the cat has since passed away after a tragic fall.
Matthew Rinaudo aka Mizkif, born February 14, 1995, is an American Twitch streamer. He is a founding member of gaming organization One True King.
Mizkif was the third most-watched Twitch streamer during the 2020 United States Presidential Election, trailing fellow streamers Trainwreckstv and Hasan Piker.
On October 11, 2020, Mizkif, along with fellow Twitch streamers Asmongold, Esfand, Rich Campbell, and Tips Out, announced the launch of their new gaming organization One True King. On June 14, 2021, the show, along with Rinaudo's channel, reached its peak viewership, at 192,000 concurrent viewers and with around 20,000 additional viewers from the invited guests' streams.