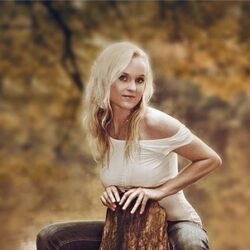 Birthday
February 14, 1976 (47)
Liv Kristine is a Norwegian singer and songwriter. One of Kristine's most notable roles came as the lead singer for the symphonic metal band Leaves' Eyes. Her powerful vocals and emotive performances were key to the success of the band, which gained a large following around the world. Kristine's work with Leaves' Eyes helped to establish her as a leading figure in the symphonic metal genre.
Kristine's work as a solo artist has also been highly acclaimed. Her debut album, "Deus Ex Machina," was a milestone in her career, showcasing her unique style and talent as a songwriter. The album received critical acclaim and helped to establish Kristine as a solo artist in her own right.
Throughout her career, Kristine has collaborated with a number of influential figures in the music industry. She has worked with esteemed artists such as Simone Simons of Epica, Doro Pesch of Warlock, and Anneke van Giersbergen of The Gathering. Kristine has also collaborated with the composer and multi-instrumentalist Alexander Krull, with whom she co-founded Leaves' Eyes.