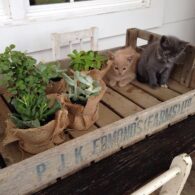 Little Jo and Fluffy
Do farm cats count as pets? These cute little mousers seem to think so. Little Jo and Fluffy were adopted for the job of rodent control but seem to enjoy days off in the sun more. Besides Little Jo and Fluffy, the Gaines' have countless cute kitties running around their acreage – what's a farm without cats, after all?
Joanna Gaines was born April 19, 1978 in Kansas. Joanna co-stars with husband Chip Gaines in HGTV's reality TV show The Fixer Upper. Joanna and Chip own and operate numerous businesses in Waco, Texas. Magnolia Market was started by Joanna and eventually growing into other ventures, including the bakery aptly named Magnolia Bakery at the Silos and Magnolia Furniture which is used to furnish some of the homes owned by Magnolia Realty seen on The Fixer Upper. During Season 1 the couple remodeled a late 1800's home, turning it into yet another business endeavor, Magnolia Home Vacation Rentals. The stars quintessentially All-American vacay spot is in high demand – booking reservations is required months in advance.
The couple live with their four kids in a 1,700 square-foot Victorian farmhouse which they remodeled themselves, of course. They have over 60 farm animals on their property and several pets including a bunch of ridiculously cute dogs and (at least) two equally as cute kittens.