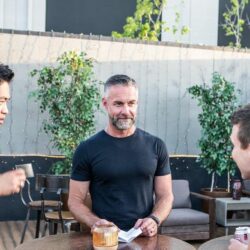 Birthday
November 15, 1971 (52)
Jay Harrington is an American actor. Some of his notable roles include Ted in the popular sitcom "Better Off Ted," Dr. Ron McCready in the medical drama "Code Black," and FBI Agent Paul Briggs in the crime drama "Graceland."
Harrington's career spans over two decades, and he has amassed an impressive list of credits throughout his time in the industry. One of the milestones in his career was his performance in the 2001 film "American Reunion," where he played the role of Dr. Ron, a pivotal character in the popular comedy franchise.
Harrington has also had the privilege of working with several influential celebrities throughout his career. He shared the screen with Hollywood legends like Meryl Streep and Tom Hanks in the political drama "The Post." Additionally, he worked with comedian and actor Steve Carell in the romantic comedy "The 40-Year-Old Virgin."
In addition to his acting, Harrington has also been involved in various other charitable causes. He has supported organizations like Stand Up To Cancer, which aims to fund cancer research and find a cure for the disease. Harrington has also been vocal about mental health issues and the need for greater awareness and support for those struggling with mental health challenges.