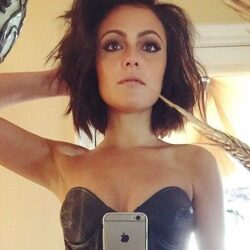 Birthday
October 29, 1986 (36)
Italia Ricci is a Canadian actress primarily known for her role as Emily Rhodes in the ABC political drama "Designated Survivor."
Ricci made her acting debut in the American Pie direct-to-video film, "American Pie Presents: Beta House," but it was her roles in television series like "Chasing Life" and "Designated Survivor" that solidified her presence in the industry. She portrayed April Carver in "Chasing Life," a young woman diagnosed with leukemia, navigating life, love, and family complications. In "Designated Survivor," Ricci took on the role of Emily Rhodes, the secretary's Chief of Staff.
Ricci has collaborated with a myriad of talented individuals. In "Designated Survivor," she worked closely with Kiefer Sutherland, Adan Canto, and Kal Penn. Her role in "Chasing Life" had her sharing screen time with Mary Page Keller, Aisha Dee, and Scott Michael Foster. Additionally, in other projects like "Unnatural," she acted alongside Ron Carlson and James Remar. She has also guest-starred in episodes of popular TV shows, working with artists like Stephen Amell in "Arrow," Grant Gustin in "The Flash," and Jared Padalecki in "Supernatural."
When it comes to recognition for her work, Ricci has been honored with nominations that bear testament to her skills and audience impact. For example, she was nominated for a Teen Choice Award for her role in "Chasing Life." Although she may not have a trophy-laden shelf, the consistent quality of her performances has made her a reliable name in the industry.