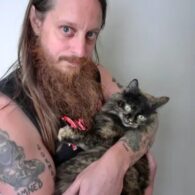 Peanut Butter (Cat)
Fenriz, the black metal band Darkthrone's famed member, unexpectedly won a council seat in Kolbotn, Oslo's suburb. Fenriz initially joined the council member list as a back-up, not expecting an election win. His campaign featured an appealing photo with his cat, Peanut Butter, and the caption, "Don't vote for me." Surprisingly, the community responded positively, electing him despite his unconventional approach. Although it was an unexpected turn, Fenriz embraced the opportunity to serve his beloved borough, while maintaining his musical endeavors. His cat, Peanut Butter, played a crucial role in making his unique campaign a success.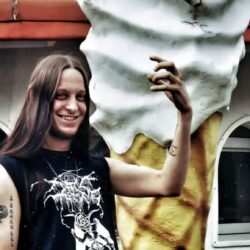 Birthday
November 28, 1971 (52)
Fenriz is a revered Norwegian musician and songwriter, best known for his influential role in the black metal band Darkthrone.
Fenriz, born Gylve Nagell, has left an indelible mark on the global metal scene primarily through his work with Darkthrone, a Norwegian black metal band that he co-founded in 1986. Darkthrone started as a death metal band but eventually shifted to a rawer and more primitive black metal sound, a move which saw them pioneer the Norwegian black metal scene. Fenriz was instrumental in this evolution, his songwriting and lyrical skills helping shape the unique identity and sound of the band. In addition to Darkthrone, Fenriz has been involved in a plethora of side projects and bands, spanning various subgenres of metal, such as Isengard, Neptune Towers, and Fenriz' Red Planet.
Fenriz's musical journey has seen him work with a diverse set of talents. His significant collaborations include working with his fellow Darkthrone bandmate, Ted "Nocturno Culto" Skjellum. His connection to the black metal community is underlined by his collaborations with musicians like Sigurd "Satyr" Wongraven of Satyricon, and members of bands Aura Noir and Dodheimsgard. His cooperation with Olve "Abbath" Eikemo, better known as Apollyon from the band Immortal, is also noteworthy. Outside the realm of music, Fenriz has engaged in creative partnerships with distinguished graphic designer Zbigniew M. Bielak, admired for his captivating album cover art.
Recognized as a significant figure in the global metal scene, Fenriz has been appreciated for his work and contributions. His band Darkthrone's second album, "A Blaze in the Northern Sky," was named as one of the 1001 Albums You Must Hear Before You Die. It's worth noting that Darkthrone, under the guidance of Fenriz, has not just been recognized for their music but also their impact and influence on the genre. For instance, Fenriz was featured in the documentary "Until the Light Takes Us," which explores the Norwegian black metal scene.
Fenriz's love for animals, particularly dogs, is well-documented. He's been seen in multiple interviews and photoshoots with his dogs, showing his affection and care for them. While he hasn't explicitly linked with any animal welfare organizations, he's a vocal advocate for respecting and loving animals, a sentiment that's resonated with his fan base. His deep connection with his pets has certainly added a distinctive, and endearing, aspect to his public persona.