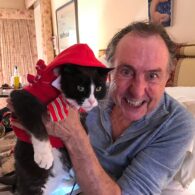 Diasy, Jack, and a Cat
Eric Idle mentioned he has dogs and cats in a April 2018 Twitter post: "Daisy is now ours. Nobody else shall have her. She is utterly delightful. It took only a few days to ensure she got on with Jack our other dog. The cat took a bit longer, but it's a happy family now."
Pictured in the photo is Ophelia. She is Charlie, his daughters boyfriend's, cat.
Eric Idle is a notable English comedian, actor, and writer, best remembered for his innovative and humorous contributions to the surreal comedy troupe Monty Python.
Idle's legacy is best embodied in his work with the groundbreaking comedy ensemble Monty Python. Known for its absurdist humor, Monty Python debuted in 1969 with the television series "Monty Python's Flying Circus," which saw Idle developing an array of zany characters. His comedic brilliance also extended to films, with Monty Python's notable movies including "Monty Python and the Holy Grail" (1975) and "Monty Python's Life of Brian" (1979). Furthermore, Idle's humorous music compositions, such as the globally recognized "Always Look on the Bright Side of Life," demonstrate his diverse range of talents.
Idle's career boasts numerous collaborations with celebrated artists, creating a constellation of stars in the realm of comedy. As part of Monty Python, he worked closely with John Cleese, Michael Palin, Terry Gilliam, Terry Jones, and Graham Chapman, each bringing their unique comedic flair to the ensemble. Idle also joined forces with comedy legend Steve Martin for the play "Picasso at the Lapin Agile." His work on the musical comedy "Spamalot" saw him collaborating with Hank Azaria, David Hyde Pierce, and Tim Curry. Moreover, Idle's association with The Beatles' George Harrison, who financed "Life of Brian" and appeared in Idle's "The Rutles: All You Need Is Cash."
The work of Idle has been acknowledged and celebrated over the years. His Broadway production "Spamalot," based on "Monty Python and the Holy Grail," won the prestigious Tony Award for Best Musical in 2005. The musical also earned him a nomination for Best Original Score. In recognition of his contributions to comedy, Idle received the Lifetime Achievement Award at the British Comedy Awards in 2013.