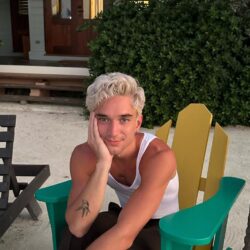 Birthday
April 2, 1999 (24)
Daniel Seavey, an American musician and pop singer, has etched his mark in the world of music as one of the key members of the boy band 'Why Don't We,' with his melodious voice resonating across generations.
Seavey's music journey began in earnest when he appeared on the fourteenth season of American Idol in 2015. Though he was one of the youngest contestants, his talent was unmistakable, and he finished in ninth place. The next turning point in his career came when he became part of 'Why Don't We,' a five-member American boy band formed in 2016. The group released its first studio album, '8 Letters,' in 2018, which peaked at No. 9 on the Billboard 200. They followed up with their second studio album, 'The Good Times and The Bad Ones,' in 2021, marking Seavey's continued growth and maturity as an artist.
Throughout his career, Seavey has crossed paths and worked with various artists and personalities in the music industry. An instance of his significant collaborations is the band's association with Ed Sheeran on the song 'What Am I.' The band also worked with music producer and DJ Marshmello on the hit single 'Unbelievable.' In addition, Daniel and his bandmates have had the opportunity to work with a myriad of other significant individuals in the music industry, including Swedish songwriter and producer Rami Yacoub, Grammy-nominated songwriter Ross Golan, and multi-platinum producer and songwriter Steve Mac. Furthermore, their connections extended to the world of fashion, where they collaborated with fashion designer Balmain for their appearance at the 2018 American Music Awards.
Despite his relatively young age, Seavey has already managed to gather several notable recognitions. One of the first came in 2019 when '8 Letters,' the album that marked 'Why Don't We's debut, earned a Gold certification from the RIAA. A subsequent release, 'Fallin,' claimed the top spot on the Billboard Pop Songs radio airplay chart in 2021.