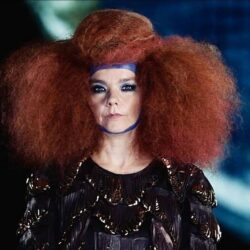 Birthday
November 21, 1965 (58)
Björk is an Icelandic singer, songwriter, and actress who has carved a unique path in the music industry with her experimental and avant-garde approach to music. Born and raised in Reykjavik, Iceland, Björk began her musical career in the late 1970s and early 1980s, as the lead singer of the punk band Tappi Tíkarrass. However, it was her breakout role as a solo artist in the 1990s that propelled her to international fame and established her as one of the most influential musicians of her generation.
Björk's music is a fusion of various genres, including electronic, pop, avant-garde, and classical. Some of her most famous albums include "Debut," "Post," "Homogenic," and "Vespertine," all of which have been critical and commercial successes. Her innovative approach to music and technology has been praised by critics and fans alike, and she has been recognized with numerous awards throughout her career, including four BRIT Awards and a Grammy Award.
Björk has collaborated with a range of artists, musicians, and producers, including Thom Yorke of Radiohead, Mark Bell of LFO, and the producer and composer, Matthew Herbert. She has also worked with a number of visual artists, including Chris Cunningham, Michel Gondry, and Spike Jonze, on music videos and live performances, creating a unique audiovisual experience for her fans.
In addition to her music career, Björk has also been a vocal advocate for animal rights and has used her platform to raise awareness about issues affecting animals. She has worked with a number of animal non-profit organizations, including PETA, and has been a vegetarian since the age of 11.
Björk's creative collaborations extend beyond the world of music, as she has also acted in several films throughout her career. Some of her most notable film roles include the lead in Lars von Trier's "Dancer in the Dark," for which she won the Best Actress award at the 2000 Cannes Film Festival, and a cameo in the critically acclaimed sci-fi film "Interstellar."
She collaborated with the Icelandic artist and filmmaker, Ragnar Kjartansson, on a performance art piece entitled "The Visitors," which was shown at the Museum of Modern Art in New York City. She also performed with the Chinese pianist Lang Lang at the opening ceremony of the 2008 Beijing Olympics and has been photographed by renowned photographer, Nan Goldin.