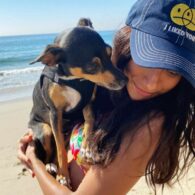 Soy
Amrit Tietz has a rescue dog named Soy. Soy is Minature Pinscher/Chihuahua she adopted through Social Tees in New York. She was interviewed by The Wildest, who she told Soy was her "First Child", before becoming a mom to her human baby, Frankie Ava.
When I got her, she was so cute, so funny, so adorable. And everyone, with my [Australian] accent, thought that I was saying "soy" instead of "so." Like, she's "soy cute." The name just kind of stuck!

Amrit Tietz, The Wildest, April 2023
Amrit Tietz is an Idian-Australian DJ, podcaster, and philanthropist. She has worked with musicians such as Dua Lipa and Lauryn Hill, and brands such as Dior and Nike. She hosts her own lifestyle podcast called "Unhinged With Amrit". She also co-founded two nonprofits: Feed the Streets and Better Shelter.