 No Pets (Alfonso Cuarón)
Alfonso Cuarón does not have any reported pets.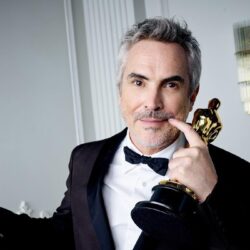 Birthday
November 28, 1961 (61)
Alfonso Cuarón is a Mexican film director, screenwriter, and producer, globally recognized for his distinctive filmmaking style that merges real-world grit with cinematic magic. His career has spanned several decades, and his profound storytelling skills have influenced contemporary cinema, pushing the boundaries of filmmaking into new, innovative directions.
Cuarón's oeuvre spans a wide range of genres, from his early work in Mexican cinema and American television to his later Hollywood and international productions. His breakout film, "Y Tu Mamá También" (2001), introduced his unique directorial style to a global audience, garnering critical acclaim for its raw depiction of teenage sexuality and Mexican society. He transitioned seamlessly into mainstream Hollywood, directing the third film in the 'Harry Potter' franchise, "Harry Potter and the Prisoner of Azkaban" (2004), infusing it with a more mature, darker tone that helped reshape the series. This was followed by his dystopian masterpiece, "Children of Men" (2006), and later, "Gravity" (2013), a space epic that showcased his innovative use of long, uninterrupted shots.
Cuarón's work is marked by significant collaborations with many distinguished artists. He frequently works with fellow Mexican filmmakers Guillermo del Toro and Alejandro González Iñárritu, known collectively as the "Three Amigos of Cinema." His professional relationship with his brother Carlos Cuarón, a writer and director, has been integral to his career. Carlos co-wrote "Y Tu Mamá También," a film that served as a turning point for both of their careers. Collaborations with actors such as Gael García Bernal, Diego Luna, Clive Owen, Sandra Bullock, and George Clooney have brought his vision to life on the big screen. Moreover, his partnership with cinematographer Emmanuel Lubezki, another frequent collaborator, has resulted in some of cinema's most breathtaking visuals, notable in films like "Children of Men" and "Gravity."
His relentless pursuit of creative innovation has earned him several prestigious awards and distinctions. Cuarón won the Academy Award for Best Director for "Gravity," becoming the first Latin American to achieve this feat. Additionally, the film earned him an Oscar for Best Film Editing, a testament to his wide-ranging talents. He repeated this success with "Roma" (2018), a deeply personal tale set in 1970s Mexico, winning Oscars for Best Director, Best Foreign Language Film, and Best Cinematography.