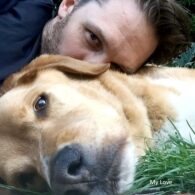 Woodstock Yamaduki Hardy
Known as Woody for short, Hardy found him as an 11-week old puppy running on a highway in Atlanta. He adopted him and brought him back home to England. This lucky rescue often joined Hardy as his date for many of his film premieres. Woody sadly died after a battle with a muscle disease in June 2017. You can also read Hardy's heartfelt tribute to Woodstock here.
Tom Hardy, born 15 September 1977, is an English actor, screenwriter, and producer. His first mainstream role was in Ridley Scott's Black Hawk Down (2001). Since then he has been in Star Trek: Nemesis (2002), RocknRolla (2008), Bronson (2008), and Inception (2010). Hardy's most popular role came in 2012 when he played Bane in The Dark Knight (2012).