If you want some motivation to get out there and enjoy the warm weather, look no further than Rowdy Dachshund, who we've proclaimed the Official Skateboarding Sausage Dog of Summer (O.S.S.D.S for short). Rowdy is so radical that even skateboarding legend Tony Hawk looks impressed! Check Hawk out below with a big grin – NBD for Rowdy, though, always keeping it cool in her shades…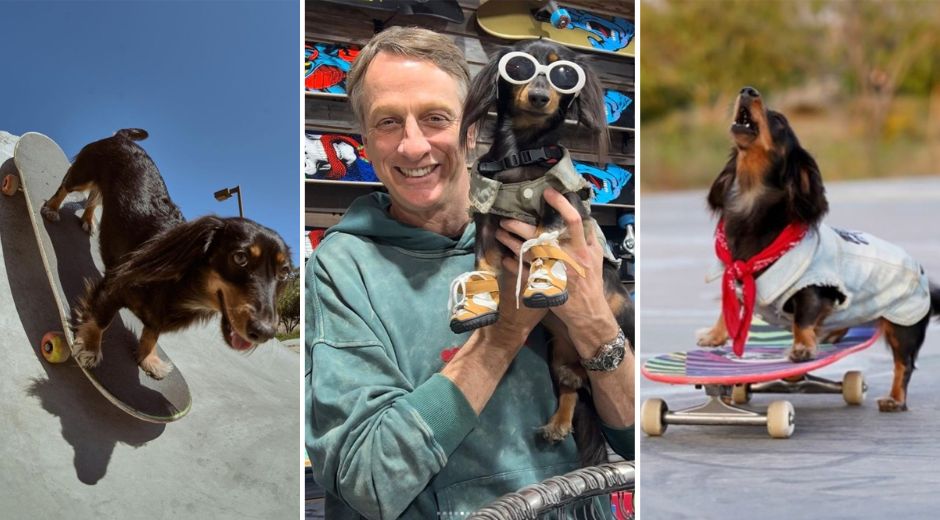 Rowdy hails from Southern California, where you'll find many human skateboarding pros.
This Dachshund has been skateboarding competitively for four years with no sign of slowing down.
Her style and skills have earned her over 120,000 followers and many medals, trophies, and other awards.
Rowdy can even rip down some steps no problem.
She's not afraid to get wet, either.
She's blazing fast without the wheels too.
And like any pro human skateboarder, she's got her own sneaker deal!
Make sure to follow @rowdy_dachshund on Instagram for more summer skateboarding fun. For another sensational sausage, check out our interview with Fifi Little Darling the Jet-Set Dachshund.