 No Pets (Zhou Guanyu)
Zhou Guanyu does not have any reported pets.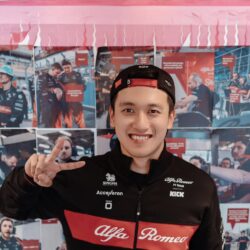 Birthday
May 30, 1999 (24)
Zhou Guanyu holds the unique distinction of being the first and only Chinese driver to compete in Formula One, currently racing for Alfa Romeo. This accomplishment, though a significant milestone, is just one of the many feats Zhou has achieved throughout his motor racing career.
Before ascending to the glitz and glamour of Formula One, Zhou's racing journey commenced in the competitive world of karting. At just eight, Zhou began karting in China, but it was his move to Sheffield in 2012 that provided him with a more robust racing environment. His karting prowess became evident when, racing for the Sheffield-based Strawberry Racing team, Zhou clinched both the Super 1 National Rotax Max Junior Championship and Rotax Max Euro Challenge in 2013.
Zhou's ascent through the motor racing ranks is a testament to his dedication and skill. From dominating the tracks in the Italian F4 Championship with Prema Powerteam in 2015 to navigating the challenges of the FIA European F3 Championship over several seasons, Zhou consistently demonstrated his racing mettle. Notably, during his third F3 season with Prema, Zhou secured two wins and was a force to be reckoned with.
However, it was the FIA Formula 2 Championship that truly spotlighted Zhou's potential on a larger stage. Racing for UNI-Virtuosi from 2019 to 2021, Zhou's trajectory was evident. He made history by becoming the first Chinese driver to achieve a Formula 2 pole position and finished third in the 2021 championship after a series of spectacular performances.
Throughout his career, Zhou has collaborated with and raced against some of the finest talents in motorsports. The likes of Lando Norris, Luca Ghiotto, Callum Ilott, and Oscar Piastri have all shared the track with him, offering intense competition and opportunities for collaboration. Furthermore, his association with renowned teams like Renault F1 Team, Alpine F1 Team, and Ferrari Driver Academy enriched his skills and prepared him for the challenges of Formula One.
Zhou's accomplishments don't end at F2. He brilliantly conquered the 2021 F3 Asian Championship driving for Abu Dhabi Racing by Prema, where he achieved an impressive four wins, five poles, and eleven podiums.