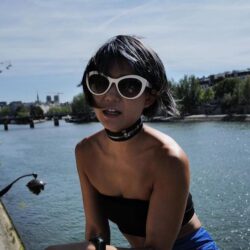 Birthday
February 10, 1987 (36)
Yuja Wang is a highly-regarded Chinese classical pianist, celebrated for her exceptional technique and emotional depth in her performances.
Wang made waves in the classical music scene from a young age, showcasing prodigious talent that quickly caught the attention of critics and audiences alike. Her discography is a testament to her broad musical palette, embracing compositions from Chopin, Liszt, and Rachmaninoff, to modern works by composers like John Adams. Her albums, such as "Transformation," "Fantasia," and "The Berlin Recital," have been praised for their innovative interpretations and technical prowess. Each of these recordings demonstrates a meticulous attention to detail and a profound understanding of the underlying musical narratives.
The collaborative endeavors of Yuja Wang have been a notable aspect of her career, enriching the classical music landscape. She has joined forces with Gustavo Dudamel, Esa-Pekka Salonen, Michael Tilson Thomas, and Zubin Mehta, among others. Her performances with violinists Leonidas Kavakos and Joshua Bell, cellists Gautier Capuçon and Mischa Maisky, and percussionist Martin Grubinger have been celebrated for their chemistry and dynamic interplay. Additionally, her work alongside operatic singer Plácido Domingo has showcased the seamless blend of their artistic expressions. The diverse array of musicians Wang has partnered with highlights her ability to transcend musical boundaries while maintaining a distinct, authentic style.
Recognition for Wang's artistry is well-documented through a variety of prestigious awards and distinctions. She was awarded the Gilmore Young Artist Award at the young age of 20, a testament to her early promise. Other noteworthy recognitions include the Avery Fisher Career Grant and the Echo Klassik award.