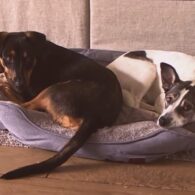 Two Rescue Dogs (Dog)
Glenn Howerton has two rescue dogs. The White dog is named Riley and we couldn't find the name of the black-and-tan pup. He grew up with cats and never had a dog, but his wife Jill Latiano convinced him to adopt a dog. And then adopt a second one 8 months later. And Howerton has said his wife is working on getting him to agree to a third rescue.
I grew up with cats. I've never had a dog in my entire life. And my wife talked me into it. And she talked me into one, and then she, a couple months later, talked me into getting a second one. Now she's talking about a third. And I'm like, "Stop. Stop it. It's too much".

Glenn Howerton, Late Night with Seth Meyers, Sept 2021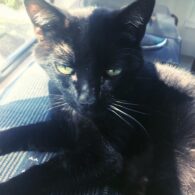 Ninja Bean (Cat)
Glenn Howerton has a black cat named Bean, better known as Ninja Bean, but also referred to as Miss Bean Kitty Queen. Glenn got this cute kitty way back in 2002, with his wife saying on Instagram in 2021 that Bean was 19 years old!
When being interviewed by Seth Meyers, he was asked "What is the big difference, being a cat person all your life, and now entering the canine world?" and he replied,
Truth be told, I've done a complete and total 180. I used to — I used to like cats, because, I don't know, I just thought it was kinda cool that cats were so standoffish and you had to kind of seduce a cat. You know, cat's not just gonna come to you. You have to kind of like play games with the cat. I thought that was kinda sexy and fun. But with dogs — I mean, I always thought, with dogs, I'm like, "Too easy. It's too easy." They run up to you, they slobber all over you, lick you, jump on you. You know, like, "Get your dirty paws off me. You're a little desperate." You know what I mean?

Glenn Howerton, Late Night with Seth Meyers, Sept 2021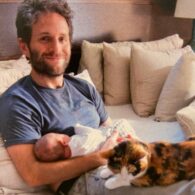 Calico Cat (Cat)
A rare photo of Cat Daddy Glenn Howerton and one of his previous kitties. This photo was shared by his wife Jill Latiano on Instagram. Howerton is seen here with a pretty Calico cat and one of his newborns. Judging by the potato-quality photo, we'd guess this was taken in 2011 when their first son Miles was born. But it could be from 2014 when their second son Isley was born.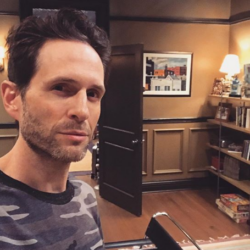 Birthday
April 13, 1976 (47)
Glenn Franklin Howerton III is an American actor, producer, screenwriter, and director. He is best known for co-creating the long-running FX series It's Always Sunny in Philadelphia, with Charlie Day and Rob McElhenney. Other lead roles in It's Always Sunny in Philadelphia are played by Kaitlin Olson, Mary Elizabeth Ellis, David Hornsby, and Danny DeVito.
In 2002, Howerton starred as Corey Howard in the ill-fated That '80s Show. He went on to guest star on ER as Dr. Nick Cooper in 2003. He had small roles in the films Must Love Dogs (2005), Serenity (2005), Two Weeks (2006), and The Strangers (2008). He also appeared as a nurse in Crank (2006), and reprised the role in its 2009 sequel, Crank: High Voltage. Howerton is most recently known for starring in the lead role of the NBC comedy series A.P Bio (2018). In 2023, he starred in the biopic film Blackberry, playing opposite Jay Baruchel.