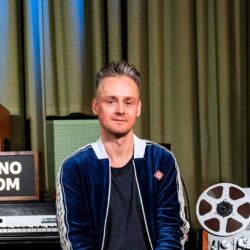 Birthday
March 8, 1979 (44)
Tom Chaplin is an English singer-songwriter, musician, and composer, primarily recognized as the lead vocalist of the English alternative rock band Keane. He has been active in the music industry since 1997 and has also ventured into a solo career.
Chaplin's musical journey began with the band Keane, which was initially a cover band called The Lotus Eaters. The band played songs by U2, Oasis, and The Beatles at Sussex pubs before changing its name to Keane in 1997. Chaplin became the lead singer and the band gained prominence for its unique sound. He later embarked on a solo career, releasing his debut solo album "The Wave" in 2016. The album featured singles like "Quicksand" and "Still Waiting." In 2017, he released a Christmas album, "Twelve Tales of Christmas," which included both original tracks and cover versions.
Over the years, Chaplin has collaborated with a variety of artists and musicians. These include Tim Rice-Oxley, Richard Hughes, Dominic Scott, JONES, and he also participated in Band Aid 20's re-recording of "Do They Know It's Christmas?" in 2004.