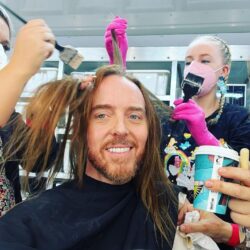 Birthday
October 7, 1975 (48)
Tim Minchin is an Australian comedian, actor, writer, musician, and composer. Throughout his career, Tim Minchin has achieved numerous milestones that have propelled him to success. One of his notable projects includes the critically acclaimed musical "Matilda the Musical," for which he wrote the music and lyrics. Premiering in 2010, the musical received widespread acclaim and garnered several awards, including seven Olivier Awards and four Tony Awards.
In addition to his work on "Matilda the Musical," Tim Minchin has collaborated with several notable celebrities and artists. He has shared the stage and collaborated with renowned comedians such as Bill Bailey, Eddie Izzard, and Jimmy Carr, creating memorable performances that have delighted audiences worldwide. Minchin has also worked with celebrated musicians like Neil Finn and the Sydney Symphony Orchestra.
Tim Minchin's achievements include winning the prestigious Perrier Comedy Award at the Edinburgh Festival Fringe in 2005. He has received multiple Helpmann Awards, which recognize excellence in Australian live performance across various categories.