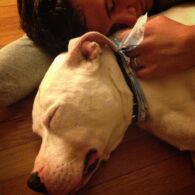 Hopper (Dog)
Before Betty and Joe Louis, Steven Crowder had a rescued Dogo Argentino named Hopper. Hopper was adopted in 2012 and passed away in December 2019. He posted the photo here on Instagram, along with the tribute below:
This picture is from seven years ago, on the day that we rescued the greatest dog I could ever ask for. Yesterday, Hopper crossed the rainbow bridge, in the very same way… wrapped in my arms (and those of my wonderful wife). It was one of the hardest things I've ever had to do. But after a yearlong battle with cancer, the old boy was tired, and even though he was pain-free, he was ready. I can't thank you enough for the outpouring of support. Seeing how many lives he's touched has been moving beyond words. Even the vet technicians who weren't on duty yesterday came in to say their goodbyes and offer up some cheeseburgers. We made sure that he was able to wash it down with his favorite beer, because why not? Funny enough, in his last act of defiance, he spat out the initially poured American lager swill, and looked to the Belgian Triple I had reserved for myself, which he immediately lapped up when offered. A persnickety Dogo to the very end!
I have to say, that after all of this, I'm beyond grateful and happy. I've realized that the sadness I feel is entirely selfish. I'm sad because I will miss my best friend, and I wasn't ready to say goodbye. But Hopper was. It was his time to go, and he had nothing to be sad about. He lived the best life we could give him, and he moved on to the next as painlessly and blissfully as anyone could wish for.
So today, I choose not to be sad, but to be grateful for the gift I was given, and for the time with which I was so immensely blessed.
And while I really appreciate the outpouring of support and condolences, if you really want to honor Hopper, spend time with your loved ones and appreciate just how precious that time is… and maybe throw in some cheeses for good measure. God bless.

@louderwithcrowder, Instagram, December 2019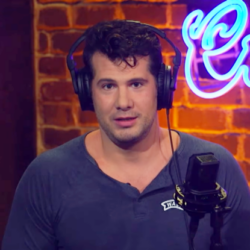 Birthday
July 7, 1987 (36)
Steven Crowder is a conservative political commentator and comedian, best known for his work as the host of the show "Louder with Crowder" and his online videos that cover a wide range of political and social issues. He is particularly known for his outspoken and often controversial opinions on topics such as gun control, immigration, and LGBTQ rights.
Over the course of his career, Steven Crowder has collaborated with several high-profile figures in the entertainment industry. In 2018, he appeared on Joe Rogan's podcast "The Joe Rogan Experience" where the two discussed a range of topics including Crowder's views on politics, free speech, and social justice. He has also worked with several prominent conservative figures including Ben Shapiro, Dennis Prager, and Charlie Kirk.
In addition to his work as a commentator and comedian, Steven Crowder has also been involved in various advocacy efforts. He has been a vocal advocate for Second Amendment rights and has worked with organizations such as the National Rifle Association to promote gun ownership and oppose gun control measures. Crowder has also been an outspoken critic of cancel culture and has advocated for free speech protections.