 Alyx (Dog)
Stampy's other Corgi is named Alyx.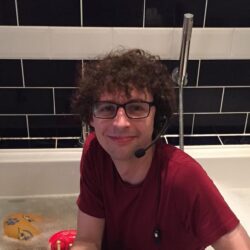 Birthday
December 13, 1990 (32)
Stampy, also known as Stampylonghead or Stampylongnose, is a British YouTuber and gamer recognized primarily for his family-friendly Minecraft videos and Let's Play series.
Stampy's channel was catapulted to fame largely because of his Minecraft videos, which are part of the broader "Let's Play" genre. One of his most popular series is "Stampy's Lovely World," where he guides viewers through creative builds and adventures in a custom Minecraft world. Aside from Minecraft, Stampy has dabbled in other video games such as Terraria and Skylanders. He has also authored children's books inspired by his Minecraft adventures.
Stampy has collaborated with a multitude of other content creators and celebrities, bolstering his own appeal as well as theirs. Notable individuals include Ballistic Squid, L for Leeeeee x, Amy Lee33, Sqaishey Quack, Netty Plays, and Rosie833. Beyond the YouTube gaming sphere, he has teamed up with educational organizations and educators like Wonder Quest's Joseph Garrett and Wizard Keen (Adam Clarke) to produce educational content.
Stampy received a Nickelodeon Kids' Choice Award for UK Favourite Tipster in 2015. The following year, he was named among the 100 most influential people in the United Kingdom by Debrett's in collaboration with the Sunday Times.