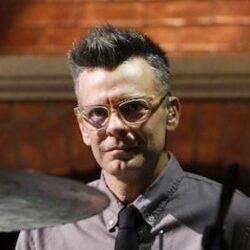 Birthday
August 9, 1968 (55)
Sam Fogarino is an American musician best known as the drummer for the post-punk revival band Interpol. His precise drumming style has been a cornerstone of the band's sound since he joined in 2000, contributing to their status as one of the most prominent bands in the indie rock scene.
Fogarino's career took a significant turn when he became a member of Interpol, contributing to albums that have become benchmarks in the genre, such as "Turn on the Bright Lights" and "Antics." His work extends beyond the drums, as he has provided backing vocals and contributed to the band's songwriting process. Interpol's music, characterized by its dark and brooding soundscapes, has been pivotal in the resurgence of interest in post-punk and new wave sounds in the early 2000s.
Collaboration has been a key aspect of Fogarino's career. He has worked with a diverse array of musicians and artists, including Paul Banks and Daniel Kessler of Interpol, Emily Haines of Metric, Mike Patton of Faith No More, Courtney Taylor-Taylor of The Dandy Warhols, Albert Hammond Jr. of The Strokes, Jarvis Cocker of Pulp, Florence Welch of Florence + The Machine, Julian Casablancas of The Strokes, and Régine Chassagne of Arcade Fire.
Throughout his career, Fogarino has been recognized for his contributions to music. While Interpol has not won major music awards, their albums have been nominated for prestigious honors, and their influence is seen in the critical acclaim they have received. Their debut album was ranked in NME's list of the top 500 albums of all time, and "Antics" went on to achieve gold status in the UK.