 No Pets (Ron Mael)
Ron Mael does not have any reported pets.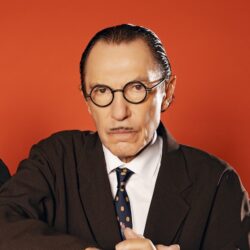 Birthday
August 12, 1945 (78)
Ron Mael, an American artist, is a remarkable presence in both the music and film industry, making waves as the keyboardist and principal songwriter for the rock band Sparks. Known for his distinctive style, characterized by his silent demeanor and intense gaze, Mael is a captivating figure who has left an indelible mark on modern pop culture.
His musical journey began in the early 1970s when he, along with his brother Russell Mael, formed the band Sparks, which was initially known as Halfnelson. Known for their sophisticated lyrics, eclectic albums, and polished stage presence, Sparks quickly established themselves as a unique force in the music scene. Sparks' 23rd studio album, 'A Steady Drip, Drip, Drip', released in 2020.
Mael's collaboration with numerous celebrated artists has played a crucial role in shaping the band's oeuvre. Iconic names include Giorgio Moroder, an Italian producer, with whom Sparks produced the acclaimed album 'No.1 in Heaven'. French filmmaker Leos Carax directed the Sparks' musical 'Annette', starring Adam Driver and Marion Cotillard. Mael also collaborated with notable artists like Franz Ferdinand, Jane Wiedlin of The Go-Go's, Erasure, Telex, and Morrissey.
In recognition of his unique artistic contributions, Mael has been bestowed with several honors. Sparks' album 'Kimono My House' was named one of the best albums of the 1970s by Pitchfork, and 'This Town Ain't Big Enough for Both of Us' peaked at No. 2 on the UK Singles Chart. Furthermore, Mael's film 'Annette', won the Best Director award at the 2021 Cannes Film Festival.