 No Pets (Robin van Persie)
Robin van Persie does not have any reported pets.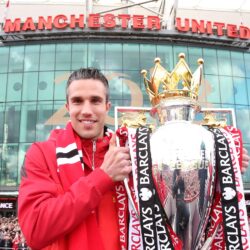 Birthday
August 6, 1983 (40)
Robin van Persie is a retired Dutch footballer, famed for his technical prowess and game-changing plays, primarily with clubs Arsenal and Manchester United. He was often utilized as a striker but demonstrated flexibility in roles, fitting smoothly into attacking midfield positions.
Van Persie made a significant mark in the English Premier League with Arsenal, where he was signed in 2004 from Feyenoord. His impact was immediate, with 11 goals in his debut season. But it was the 2011-2012 season that served as a standout, where he led the league in scoring with 30 goals. After his Arsenal years, he moved to Manchester United in 2012, making a jaw-dropping debut by scoring a hat-trick against Southampton. His goals were instrumental in helping the club secure its 20th English Premier League title in the 2012-2013 season. Apart from the EPL, he also shone on the international stage, scoring crucial goals for the Netherlands, including a memorable header against Spain in the 2014 FIFA World Cup.
He partnered on-field with the likes of Cesc Fàbregas, Thierry Henry, and Andrey Arshavin during his time at Arsenal. At Manchester United, he teamed up with Wayne Rooney, Ryan Giggs, and Michael Carrick among others. Internationally, he formed strong alliances with Wesley Sneijder, Arjen Robben, and Dirk Kuyt when representing the Netherlands. Coaches also played pivotal roles in his development, most notably Arsène Wenger at Arsenal and Sir Alex Ferguson at Manchester United.
Van Persie's career is littered with notable achievements. In the Premier League alone, he won the Golden Boot twice, once with Arsenal in the 2011-2012 season and again with Manchester United in the 2012-2013 season. Additionally, he was part of the Manchester United squad that won the Premier League title in the 2012-2013 season. Internationally, he is the all-time leading scorer for the Dutch national team with 50 goals in 102 appearances. While playing for Arsenal, he was named the PFA Players' Player of the Year and FWA Footballer of the Year for the 2011-2012 season.