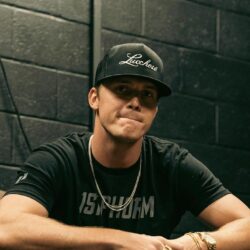 Birthday
June 15, 1992 (31)
Parker McCollum is an American country singer-songwriter hailing from Conroe, Texas, recognized for his genuine narrative style and smooth melodies that resonate with a broad spectrum of audiences.
McCollum's foray into the music scene showcased his ability to blend traditional country aesthetics with a modern, fresh spin. His debut album, "The Limestone Kid" released in 2015, laid the groundwork for his career, but it was his extended play "Hollywood Gold" that catapulted him into the limelight, particularly with the single "Pretty Heart" which achieved remarkable success on country radio. His following album, "Gold Chain Cowboy" further exemplified his prowess, consolidating his footprint in the contemporary country music landscape.
The journey of musical maturation for McCollum was not a solitary endeavor. Collaborations with notable individuals such as Danielle Bradbery, Randy Rogers, and Cody Johnson, among others, reflect a camaraderie and mutual admiration within the music community. Additionally, working with producers like Jon Randall and Jordan Lehning, he crafted a sound that bridges the gap between generations of country music enthusiasts.
Over the years, Parker McCollum has been the recipient of several honors that underline his contributions to the country music genre. His single "Pretty Heart" not only charted impressively but also earned him a gold certification from the Recording Industry Association of America (RIAA). Moreover, his consistent output and growing fanbase led to his signing with Universal Music Group Nashville.