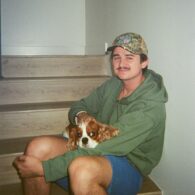 No Pets (Nicky Youre)
Nicky Youre does not have any reported pets. He shared this photo with a Cavalier King Charles Spaniel on his Instagram but we were unable to locate any references to whether he had this cute pup at home. He also shared the spotlight with a little kitten in his "Eyes On You" music video which we believe was just there as a crowd pleaser. If you have any information on Nicky Youre or his pets, please reach out!
Nicky Youre, an American singer-songwriter, has carved out a niche in the pop music scene with his catchy melodies and relatable lyrics. He burst onto the music landscape with his 2021 single "Sunroof," which not only became a viral sensation but also marked his entry into the mainstream music industry.
Youre's musical journey began with his debut single "Sex and Lemonade" in 2020, but it was "Sunroof," released in December 2021, that cemented his status in the industry. The single, created in collaboration with Dazy, reached the top five of the Billboard Hot 100 and became a global hit, topping charts and streaming platforms. Following this success, Youre continued to release music that resonated with a wide audience, including tracks like "Never Go Wrong" and "Eyes on You."
Collaboration has been a cornerstone of Youre's career. He has worked with a variety of artists, each bringing their unique flair to the music they create together. Notable collaborators include Dazy, with whom he produced the hit "Sunroof," and David Hugo, who joined forces with Youre on the track "Never Go Wrong."
Youre's song, "Sunroof," became the most popular song of 2022 on TikTok in the UK and topping the Canadian Hot 100. His work has been featured on several year-end lists.