 Dog
In October 2012, Michael Vick confirmed that he adopted a dog which he has kept out of the public eye. After refusing to answer a question about his adoption during a press conference, he later released the following statement.
"I understand the strong emotions by some people about our family's decision to care for a pet," Vick said in a statement released by his publicist. "As a father, it is important to make sure my children develop a healthy relationship with animals.
"I want to ensure that my children establish a loving bond and treat all of God's creatures with kindness and respect. Our pet is well cared for and loved as a member of our family. This is an opportunity to break the cycle. To that end, I will continue to honor my commitment to animal welfare and be an instrument of positive change."
Last week, Vick tweeted a photograph of him and his daughter seated together at a table presumably at home. To their right was an open box of Milk-Bone dog biscuits. The tweet was later deleted and was replaced by a similar photo, sans the Milk-Bone box.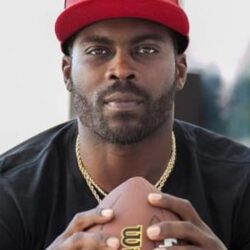 Birthday
June 26, 1980 (42)
Michael Vick is a former American football quarterback who played in the National Football League (NFL) for 13 seasons. Regarded as having transformed the quarterback position with his rushing abilities, he was the first NFL quarterback to rush for 1,000 yards in a season and holds the quarterback rushing yards record at 6,109. He played college football at Virginia Tech, where he received first-team All-American honors, and was selected first overall by the Atlanta Falcons in the 2001 NFL Draft. During his six years with the Falcons, Vick was named to three Pro Bowls while leading the team on two playoff runs, one division title, and an appearance in the NFC Championship Game.
Bad Newz Kennels dog fighting investigation
The Bad Newz Kennels dog fighting investigation began in April 2007 with a search of property in Surry County, Virginia, owned by Michael Vick, who was at the time quarterback for the Atlanta Falcons football team, and the subsequent discovery of evidence of a dog fighting ring. Over seventy dogs, mostly pit bull terriers, with some said to be showing signs of injuries, were seized, along with physical evidence during several searches of Vick's 15-acre (61,000 m2) property by local, state and federal authorities.
The case drew widespread publicity to the issues of animal abuse and dog fighting. It also drew attention to unlawful gambling and drug activities which authorities claim often accompany dog fighting. Subsequently, Vick and three other principals were convicted of federal offense conspiracy charges and imprisoned. Vick was suspended by the NFL, was ordered to pay the Atlanta Falcons back a portion of his earnings, and lost endorsement deals worth millions more. With other creditors also attempting to collect millions of dollars in debts, in July 2008, he filed for Chapter 11 (reorganization) bankruptcy protection.