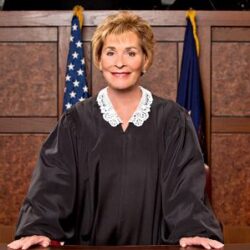 Birthday
October 21, 1942 (81)
Judy Sheindlin, perhaps best known by her television persona "Judge Judy," is a retired American lawyer and judge who subsequently became a prominent media figure. Sheindlin has been an influential and steady presence on American television for decades, her legal acumen and sharp wit creating a trailblazing figure in the realm of court television.
Her success in the television world started with the eponymous "Judge Judy," a reality court show where she presided over real small-claims cases inside a simulated courtroom set. Premiering in 1996, the show became a fixture of American television and, at its height, was reportedly watched by an average of 10 million viewers each day. Additionally, Sheindlin hosted a spin-off show "Hot Bench," where a panel of judges hears cases and then debates the facts amongst themselves before delivering a verdict.
Throughout her career, Sheindlin has interacted and collaborated with a myriad of celebrities and influential figures. Renowned daytime talk show host, Oprah Winfrey, was one of the first to recognize the spark in Sheindlin, leading to an early interview that substantially elevated Sheindlin's profile. Larry Lyttle, former president of Big Ticket Television, also played a pivotal role in her career, spotting her potential and helping launch the "Judge Judy" show. Other notable interactions include appearances on "Saturday Night Live" with actress Cheri Oteri, interviews with news personalities like Katie Couric and Larry King, and the memorable 'court case' on "The Tonight Show with Jimmy Fallon" where she amusingly 'sued' him for a gag. Besides, she has worked closely with Petri Hawkins-Byrd, who served as the bailiff on "Judge Judy," and Randy Douthit, the director and executive producer of the show.
Sheindlin's contributions to the television industry have earned her significant recognition. In 1999, she received a star on the Hollywood Walk of Fame, symbolizing her impact on American television. She was also honored with the Gracie Allen Tribute Award from the Foundation of American Women in Radio and Television in 2001. Moreover, Sheindlin and her show "Judge Judy" have received numerous Daytime Emmy Award nominations over the years, culminating in a win for Outstanding Legal/Courtroom Program in 2013, and again in 2016 and 2017.
Beyond her television fame, Sheindlin has demonstrated a significant commitment to animal welfare. She has been involved with the Hereditary Disease Foundation's 'Buddy Up For Life' program, which pairs service dogs with individuals affected by Huntington's disease.