 No Pets (Hikaru Utada)
Hikaru Utada does not have any reported pets.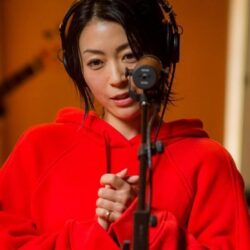 Birthday
January 19, 1983 (40)
Hikaru Utada is a Japanese-American singer-songwriter and producer known for her distinctive voice and versatile music style. Born in New York City, Utada began her musical career in the late 1990s and quickly rose to fame in Japan and beyond. With over 40 million records sold worldwide, she is one of the best-selling music artists in Japan and has been recognized for her contributions to the music industry with numerous awards.
Utada's breakthrough role came in 1999 with the release of her debut album, "First Love," which became the highest-selling album in Japanese history at the time. The album's lead single, "Automatic / time will tell," topped the charts and established Utada as a formidable talent in the music industry. Since then, she has released several successful albums, including "Distance" (2001), "Ultra Blue" (2006), and "Fantôme" (2016).
One of the most significant milestones in Utada's career was her collaboration with the renowned music composer and producer, Pharrell Williams, on her album "Exodus" (2004). The album marked a departure from her previous music style and incorporated elements of electronic and hip-hop music, which resonated with a new audience. The lead single, "Easy Breezy," was a hit in Japan and helped Utada gain recognition in the United States.
Utada has collaborated with several other notable musicians and celebrities throughout her career, including Skrillex, who produced her 2018 album "Hatsukoi," and British singer-songwriter Sam Smith, who featured on her song "Toilette" in 2020. She has also worked with Japanese pop legends like Ayumi Hamasaki and Kazuya Yoshii.
Utada's achievements in the music industry have earned her numerous awards and accolades over the years. She has won the Japan Record Award, Japan Gold Disc Award, and the World Music Award, among others. In 2018, she was awarded the Japan Society Award for her contribution to the promotion of Japanese culture and was recognized by the Japanese government for her outstanding achievements in music.
In addition to her music career and advocacy work, Utada has also made notable contributions to the film and television industry. She provided the theme songs for several popular anime series, including "Neon Genesis Evangelion" and "Kingdom Hearts." She also made her acting debut in the 2016 film "Parallel World Love Story," directed by Nobuhiko Obayashi.
Utada has also been actively involved in animal advocacy and supports several non-profit organizations that work towards protecting animals. In 2017, she participated in the "One Family" campaign organized by the Japanese animal welfare organization ARK, which aims to raise awareness about animal welfare and encourage pet adoption.