 No Pets (Ethan Slater)
Ethan Slater does not have any reported pets.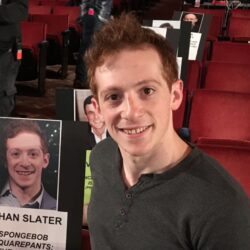 Birthday
June 2, 1992 (31)
Ethan Slater is an American actor and singer, best known for his lead role in the Broadway musical "SpongeBob SquarePants."
He gained widespread attention for his role as SpongeBob SquarePants, a character originally created by Stephen Hillenburg for the television series of the same name. This musical adaptation offered Slater an expansive platform, drawing audiences of various ages. Alongside this standout role, Slater has showcased his abilities in independent films like "Lightning Bugs in a Jar" and the digital series "Indoor Boys."
Collaboration is a cornerstone in Slater's career. He has shared the stage or screen with numerous artists, including Gavin Lee as Squidward, Danny Skinner as Patrick Star, and Jai'Len Josey as Pearl Krabs in "SpongeBob SquarePants: The Musical." He has also teamed up with Wesley Taylor, co-creator of "Indoor Boys," and with stage icons like Lilli Cooper and Alex Gibson. Slater has also worked with director Tina Landau and choreographer Christopher Gattelli in his journey on Broadway. Other collaborations include Andy Kelso, Abby C. Smith, and Vasthy Mompoint, who have all played key roles in various productions in which Slater has participated.
Slater's talent has not gone unnoticed in the realm of awards and distinctions. He was nominated for a Tony Award for Best Leading Actor in a Musical for his role as SpongeBob. Furthermore, he has received a Broadway.com Audience Award for Favorite Breakthrough Performance (Male). His work in "SpongeBob SquarePants: The Musical" was also a part of the production's Drama Desk Award for Outstanding Musical.