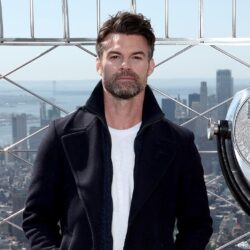 Birthday
March 14, 1976 (47)
Daniel Gillies is a Canadian-born New Zealand actor and director, best recognized for his performances in the globally popular television series 'The Vampire Diaries' and its spin-off 'The Originals.' A gifted performer, Gillies has portrayed a wide array of characters that extend from dark and brooding supernatural beings to charming and thoughtful suitors.
Gillies' acting prowess truly came to light with his role as Elijah Mikaelson, an original vampire, in 'The Vampire Diaries,' and later in 'The Originals.' His profound portrayal of Elijah not only stole hearts but also underscored his versatility as an actor. His compelling performances in feature films, including 'Spider-Man 2,' 'The Sensation of Sight,' and 'Captivity,' further solidified his position in the industry. Apart from these, his role in the medical drama 'Saving Hope,' where he played the character of Dr. Joel Goran.
Over the years, Gillies has collaborated with many noteworthy figures from the entertainment industry. His alliance with the creators of 'The Vampire Diaries,' Julie Plec and Kevin Williamson, shaped his most iconic character, Elijah Mikaelson. In the world of film, Gillies shared screen space with illustrious actors such as Tobey Maguire in 'Spider-Man 2' and Elisha Cuthbert in 'Captivity.' In 'The Originals,' he worked with the talented ensemble of Joseph Morgan, Phoebe Tonkin, and Charles Michael Davis, among others. Moreover, his role in 'Saving Hope' led to collaborative work with Erica Durance and Michael Shanks.
While Gillies' acting skills have won him substantial fan admiration, his work has also received critical appreciation. He was nominated for a prestigious Saturn Award for Best Supporting Actor on Television for his role in 'The Originals.' Moreover, his performances in 'The Vampire Diaries' and 'The Originals' received recognition with the Teen Choice Awards nominations.