Amber Bain (The Japanese House)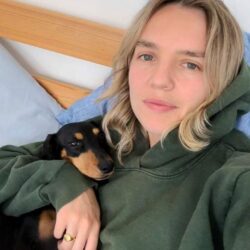 Birthday
July 13, 1995 (28)
Amber Mary Bain, known professionally as The Japanese House, is an English indie pop musician hailing from Buckinghamshire. She is recognized for her unique musical contributions in which she provides vocals and plays an array of instruments, including guitar, synthesizer, and keyboard. Bain's career as The Japanese House took flight in 2012 after being introduced to Matty Healy, a member of the 1975 band, who offered to help produce her music under the label Dirty Hit. Her debut single, "Still," led to her first taste of prominence, receiving critical acclaim and premiering on BBC Radio 1​​.
Throughout her career, Bain has released several notable albums and EPs, each showcasing a unique blend of indie pop, synth-pop, and diverse experimental genres. Bain began with her debut EP Pools to Bathe In in 2015, followed by her second EP Clean. Both works are rooted in indie pop and synth-pop but show Bain's exploration into dream pop, folktronica, and electropop genres​​. Her later works, such as the Swim Against the Tide (2016) EP, draw influence from 80s synth-pop, while her fourth EP, Saw You in a Dream (2017), and her first full-length album Good at Falling (2019) display a continued experimentation with electronica and rock genres​​.
Bain's collaborations have played an essential role in shaping her musical style. She began her career under the tutelage of Matty Healy from the 1975 and was signed to their label, Dirty Hit​. Her recent album, In the End It Always Does, saw collaborations with the 1975's Matthew Healy and George Daniel, MUNA's Katie Gavin, and Bon Iver's Justin Vernon​. These collaborations have helped her expand her musical horizons and create unique sonic experiences.