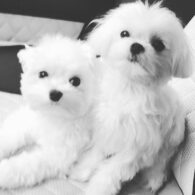 Minnie and Daisy Lima
In Nov 2015, Minnie and Daisy Lima were happily adopted into the Adriana Lima's family. The adorable puppies have been showered by affection from Lima and her fans ever since. Even though very little has been posted except for the initial Instagram post, we're sure the puppies are enjoying their new lives.
Adriana Lima, born June 12, 1981, is a Brazilian Portuguese model and actress. Known best as one of the Victoria's Secret top models and a spokesmodel for Maybelline cosmetics from 2003 to 2010. Since 2000 at the age of 19, Adriana has graced the walkway in the annual Victoria Secret Fashion Show with wings on her back. Looking back, she is quite possible one of Victoria's Secret's main reasons for their huge success today.