 No Pets (Stu Mackenzie)
Stu Mackenzie does not have any reported pets.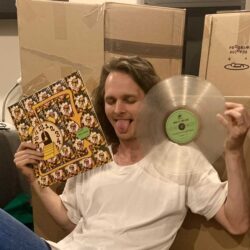 Birthday
October 26, 1990 (32)
Stu Mackenzie is an Australian musician and songwriter primarily known as the frontman for the psychedelic rock band King Gizzard & the Lizard Wizard. In his position as the lead vocalist and guitarist, he's been a catalyzing force behind the band's unique sound, which often ventures into experimental genres, from jazz fusion to heavy metal. King Gizzard & the Lizard Wizard have released a number of albums since their formation, including groundbreaking works like "Nonagon Infinity," an album designed to be played on a continuous loop, and "Polygondwanaland," which was released for free and under an open-source license.
Mackenzie has been quite the collaborator over the years, working with a variety of artists and musicians that expand beyond the realm of his primary band. Some of these individuals include Joey Walker, Ambrose Kenny-Smith, and Lucas Skinner from King Gizzard & the Lizard Wizard. He also worked with notable artists outside of his band including Alex Brettin of Mild High Club, Leah Senior, a Melbourne-based folk musician, and Jason Galea, a graphic artist who has contributed to the band's visual aesthetics. His collaborative endeavors have also led to partnerships with Blake Ibanez from Power Trip, Eric Moore, the former manager of King Gizzard & the Lizard Wizard, and artists such as Angel Olsen and ORB's Zak Olsen.
King Gizzard & the Lizard Wizard won the Australian Music Prize for their 2016 album "Nonagon Infinity." They were also nominated for several ARIA Music Awards, one of Australia's most coveted music prizes.