 No Pets (Rachaad White)
Rachaad White does not have any reported pets.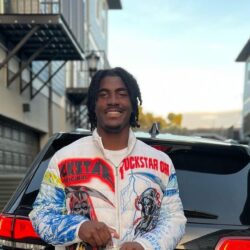 Birthday
January 12, 1999 (24)
Rachaad White is an American football running back currently playing for the Tampa Bay Buccaneers in the National Football League (NFL). He was drafted by the Buccaneers in the third round of the 2022 NFL Draft.
White began his collegiate career at Nebraska–Kearney, where he redshirted as a true freshman. He then transferred to Mt. San Antonio College, where he rushed for 1,264 yards and 10 touchdowns. Later, he moved to Arizona State University. During his time there, he led the team in both rushing and receiving yards, a feat not achieved since 1949 at the university. In his senior year, he rushed for 1,000 yards and 15 touchdowns and caught 43 passes for 456 yards and one touchdown.
Throughout his career, White has had the opportunity to collaborate with various influential individuals in the sports world. These include Tom Brady, with whom he completed a 13-point comeback against the New Orleans Saints, and Herm Edwards, the head coach at Arizona State who had a significant influence on his development. Other notable collaborations include matchups against teams led by quarterbacks like Dak Prescott of the Dallas Cowboys and Patrick Mahomes of the Kansas City Chiefs. He has also been compared to Hall of Fame back Marcus Allen by Herm Edwards and has been covered by sports journalists like Michelle Gardner, Brad Denny, and Shotgun Spratling.
White was named Second-team All-Pac-12 in 2021. During his first NFL season, he appeared in all 17 games and started the last eight games of the regular season and the Buccaneers' playoff game. He finished the 2022 season with 129 carries for 481 rushing yards and one rushing touchdown, along with 50 receptions for 290 receiving yards and two receiving touchdowns.