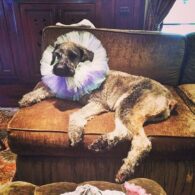 Oliver Cromwell
This giant Schnauzer was named Oliver Cromwell after the Lord Protector of the Commonwealth of England, Scotland and Ireland who lived from 1599 until 1658. Milla though he looked like a lord and the name popped into her head. She has said because of real Oliver Cromwell's treatment of the Irish, that some of her irish friends have been offended at her choice.
Born in the Ukraine, Milla Jovovich emigrated with her parents to the States in 1981 when she was five years old. She started her modelling career at the age of 12 and her first acting role at 13. With a successful career as both a model and actor that already spans over 30 years, she has earned an estimated net worth of $36 million.
She has been one of the most popular supermodels since the mid-90s, working with brands such as Calvin Klein, Versace, Coach, Armani, Christian Dior, Gap, Banana Republic, Revlon, L 'Oreal and more. After several roles in Hollywood movies, in 1997 she became a major celebrity starring opposite Bruce Willis in The Fifth Element.The following year she starred in The Messenger: The Story of Joan of Arc, along with more supporting roles in other films. She has since become best known for her lead role in the series of Resident Evil movies, with the first released in 2002 and the sixth and final installment released in 2017.
Along with modelling and acting, she is also known for fashion design, with her brand Jovovich-Hawk, as well as a musician with two studio albums, a collection of singles and many movie soundtrack appearances. She was previously married to Luc Besson, director of The Fifth Element and The Messenger and is currently married to Paul W.S. Anderson, who is the director of the Resident Evil series.