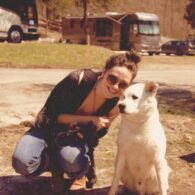 Oscar (Dog)
Crystal Reed is the proud owner of a rescue dog named Oscar, whom she adopted from a no-kill shelter in Chicago called PAWS. She wasn't initially planning to get a dog, but was captivated by Oscar's charm during a casual stroll by the shelter. Oscar, who enjoys walking off-leash, displays his caring nature by frequently stopping and looking back to ensure Reed is nearby and safe, showcasing his gentlemanly behavior.
Crystal Reed is an American actress, best known for her role as Allison Argent in the television series "Teen Wolf." Her career began with guest appearances in various TV shows, but it was her role in "Teen Wolf" that brought her widespread recognition. Reed's portrayal of Allison Argent, a character that resonated with a large fan base, was a significant milestone in her career. She left the show after its third season but returned for a guest appearance in the fifth season and later reprised her role in the reunion film "Teen Wolf: The Movie" in 2023.
Reed's filmography extends beyond "Teen Wolf." She has appeared in movies such as "Skyline" (2010), "Crush" (2013), "Too Late" (2015), and "Ghostland" (2018). In television, after her departure from "Teen Wolf," she took on the role of Sofia Falcone in the fourth season of "Gotham" (2017–2018) and played the lead role of Abby Arcane in the series "Swamp Thing" (2019).
Collaboration has been a key aspect of Reed's career. In "Teen Wolf," she worked alongside Tyler Posey, Holland Roden, Shelley Hennig, JR Bourne, Ian Bohen, Colton Haynes, Linden Ashby, Melissa Ponzio, and Ryan Kelley. In "Gotham," she shared the screen with Ben McKenzie, Donal Logue, David Mazouz, Morena Baccarin, and Sean Pertwee. Her role in "Swamp Thing" saw her acting alongside Andy Bean, Derek Mears, and Virginia Madsen. In the film "Crush," she collaborated with Lucas Till, Sarah Bolger, and Caitríona Balfe.