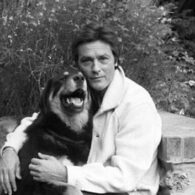 Buried with his Dogs
Esteemed actor and dog enthusiast, Alain Delon, has been known for his deep affection for dogs throughout his life. His love was evident when he aided Mombo, a dog badly burned, this past year. Delon sees his bond with dogs as a form of pure and unconditional love. He cherishes the loyalty of his dogs who love him without knowing his fame or profession.
Delon has expressed the wish to be interred among his beloved pets, with plans for a chapel built in the midst of his dogs' resting place. He intends to maintain his closeness with his canine companions even in death.
Now in his 80s, Delon has 5 shelters for dogs and stray cats the last time anyone counted. He has candidly expressed discontent with the contemporary world, indicating a readiness to depart it. However, he wishes to share this final journey with his beloved pet, a Belgian Shepherd named Loubo. This revealing sentiment emphasizes Delon's profound and enduring connection with his dogs, exemplifying his unwavering love and loyalty for them.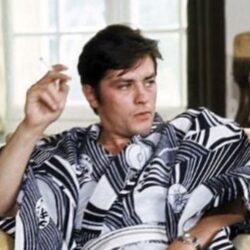 Birthday
November 8, 1935 (87)
Alain Delon, a French actor, is particularly esteemed for his roles in "Rocco and His Brothers" and "The Leopard."
Delon's first pivotal role was in the 1960 film, "Rocco and His Brothers," directed by Luchino Visconti. The film, depicting the poignant narrative of a family faced with poverty and strife, saw Delon personify a complex, troubled character that was instrumental in placing him firmly on the global cinema stage. Following this, he took on the title role in Visconti's "The Leopard," creating another iconic character and demonstrating his innate ability to capture and convey deep emotional nuance. His portfolio also boasts seminal works like "The Samurai," a crime film that sealed his reputation as a stalwart of the French New Wave cinema.
Throughout his illustrious career, Delon worked with a host of celebrities, all pillars of the industry in their own right. He starred alongside Romy Schneider in "The Swimming Pool," a French-Italian film that established them as one of the most celebrated on-screen couples. His association with Luchino Visconti resulted in critically acclaimed films such as "The Leopard" and "Rocco and His Brothers." In 1967, he shared the screen with Charles Bronson in "Farewell, Friend," demonstrating his ability to craft palpable chemistry with co-stars. Delon's encounters with Jane Fonda in "Joy House," Jean-Paul Belmondo in "Borsalino," and Brigitte Bardot in "Spirits of the Dead" further underline his remarkable versatility and adaptability.
A towering figure in French cinema, Delon's talent and hard work have been recognized and celebrated with numerous awards and titles. The Berlin International Film Festival conferred him with the Silver Bear for Best Actor for his performance in "Lost Command." The César Awards, known as the French equivalent of the Oscars, honored him with a César for Best Actor for his outstanding performance in "Our Story." In 1995, he received a César d'Honneur for his significant contributions to French cinema. Additionally, his footprint in Hollywood was immortalized with a star on the Hollywood Walk of Fame.
Delon's affinity for animals is another facet that is well documented. He served as the president of the "Association for the Defense and Protection of Animals" in France, demonstrating his commitment to animal rights.