 No Pets (Ceci Balagot)
Ceci Balagot does not have any reported pets.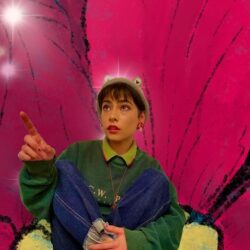 Birthday
April 2, 2001 (22)
Ceci Balagot is an actress who gained notable attention for her role in the "Monster High" film series. In the 2022 live-action musical fantasy film "Monster High: The Movie," directed by Todd Holland, she portrayed the character Frankie Stein, a central figure in the narrative. The film was based on the Monster High fashion doll franchise by Mattel and was released on both Paramount+ and Nickelodeon. Following its success, a sequel titled "Monster High 2" was released in 2023, where Balagot reprised her role.
Throughout her career, Ceci Balagot has worked alongside a myriad of talented individuals. In the "Monster High" series alone, she collaborated with Miia Harris, Nayah Damasen, Case Walker, Jy Prishkulnik, Steve Valentine, Lina Lecompte, Justin Derickson, Marci T. House, Scotch Ellis Loring, Nasiv Sall, Lilah Fitzgerald, Ana Ortiz, Bonale Fambrini, Kyra Leroux, and Salena Qureshi.