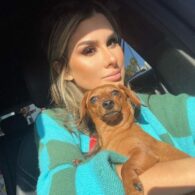 Teenie the Weenie
Brittany Furlan has two dogs, along with her husband Tommy Lee's two dogs. This is her dachshund named Teenie the Weenie. Teenie made headlines in August 2022, when her husband Lee was performing on stage and pulled a wiener out of his pants… Which was Teenie.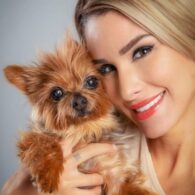 Wicky
Brittany Furlong had a lil' yorkie named Wicky she got all the way back in 2004. Sadly, Wicky passed away in 2020. Furlong posted this tribute to him on Instagram, saying, "My handsome little man has passed on. After 16 wonderful years together. He always was such a good boy. Never pottied in the house, even as a baby, unless he was sick. Loved everyone but especially mommy. This photo was taken one month ago…crazy to think how things change. He went peacefully and will be with me always. I love you Wicky"
Brittany Furlan Lee is an American actress, comedian, and content creator best known for her Vine videos, which earned her the title of most followed female video star on the platform. She has since gone on to appear in films such as We Are Your Friends, as well as television shows including Comedy Bang! Bang! and The Mindy Project. She is also the host of the podcast What's Up Furlan, which provides advice and entertainment to her fans. Furlan is a passionate animal rights advocate and uses her platform to spread awareness about the cause. In 2019, she married Tommy Lee, the drummer of the metal band Mötley Crüe.