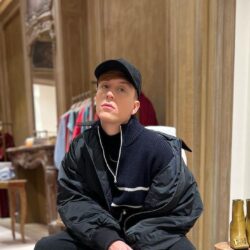 Birthday
April 10, 1996 (27)
Loïc Nottet is a Belgian singer-songwriter and dancer, first gaining public attention for his performance in the third season of "The Voice Belgique" and later representing Belgium in the 2015 Eurovision Song Contest.
Known for his versatility in both singing and dancing, Nottet's first significant venture into the world of music was with his debut album "Selfocracy" in 2017. The album showcased his unique ability to merge electro-pop with lyrical depth, earning him critical acclaim. He gained further recognition with his singles like "Million Eyes" and "On Fire," each attracting millions of views on YouTube.
Nottet has had a series of noteworthy collaborations, adding a rich texture to his professional profile. He has worked with Soprano in the song "Doctor," which turned into a massive hit. He has also collaborated with BJ Scott, one of his mentors during his stint at The Voice Belgique. Alex Germys, a prominent music producer, teamed up with him for the single "Go To Sleep." Further enriching his career, Nottet joined forces with international names such as Marina Kaye, Slimane, Vitaa, Kendji Girac, Claudio Capéo, Amir, and Álvaro Soler.
Nottet has garnered several distinctions that underline his influence in the music industry. His debut album "Selfocracy" was certified Platinum in Belgium, and his single "Rhythm Inside" went Platinum in Sweden and Gold in Belgium. He won the European Border Breakers Award (EBBA) in 2018, highlighting his influence beyond Belgium. Moreover, his music videos have won him the D6bels Music Award for Best Clip.