 No Pets (Nancy Anne Ridder)
Nancy Anne Ridder does not have any reported pets.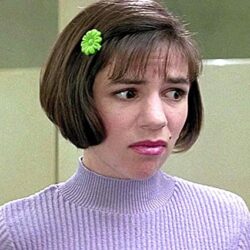 Nancy Anne Ridder, credited as Nancy Ann Ridder, is an actress best known for her brief but memorable cameo appearance in the hit horror film, "Scream" (1996). In the film, she portrayed the character "Girl in Bathroom" and engaged in a conversation with her friend, "Cheerleader in Bathroom" (played by Leonora Scelfo), about the central character of the film, Sidney Prescott (played by Neve Campbell), and her mother, Maureen Prescott (portrayed by Lynn McRhee).