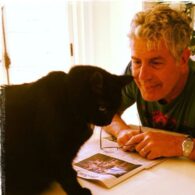 Lupetto Bourdain (Cat)
With one black cat, Bourdain has said he's a more of a cat person than dog person. As a legendary international foodie, has been accused of eating dog, but has said he hasn't and will never eat a cat or dog. Lupetto translates to "little wolf" in Italian and was named by Bourdain's ex-wife Ottavia. It's unknown who Lupetto lives with since their separation.
Anthony Bourdain is an American TV personality, author and chef who live June 25, 1956 – June 8, 2018. Passionate about food since a child thanks to his parents, he pursued a career as a chef in his teens. After graduating the Culinary Institute of America in 1978, he went on to work for and run various restaurant kitchens, often as executive chef.
He became a restaurant industry celebrity at age 44, when he published his first book Kitchen Confidential in the year 2000. Based on his experience as a chef in New York and his views on the industry, it became a New York Times bestseller. This led to the Food Network offering him to host a food and travel show called A Cook's Tour, which premiered in 2002 and concluded with 35 episodes and a book.
Next he launched a new travel and food TV show on the Travel Channel called Anthony Bourdain: No Reservations. It ran from 2005 until 2012 and made him one of the most famous chefs in the world. This was followed up with the TV show The Layover from 2011-2013. He currently hosts the CNN show Anthony Bourdain: Parts Unknown, which premiered in 2013.