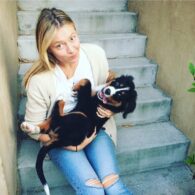 Bruiser
Sharapova has posted a cute Bernese mountain dog puppy on her Instagram a few times since early 2016. Named Bruiser, he's grown a lot since.
Maria Yuryevna Sharapova is a Russian professional tennis player born on April 19, 1987 who has an estimated net worth of $135 million. She's noted as one of ten women to achieve a "career Grand Slam", meaning she's won the four major tennis tournaments: the US Open, Australian Open, French Open and Wimbledon. She also won a silver medal for Russia in the 2012 Summer Olympics.
Sharapova started playing tennis at the age of 4, thanks to a friend of her father, whose son was the world's first Russian player to be ranked number one at the time. She took her first tennis lessons and impressed her coach right away. When she was six, she moved to the USA with her family to continue her training, despite not having much money and not being able to speak English. Her skill grew quickly and she was signed by a big sports management group when she was nine, who paid for her school and training. In 2005, when she was 18, she first ranked number one globally. Along with work as a model, she has been the ambassador for many top brands such as Nike and Cole Haan.